Online engagement on the Unified Funding System 'Funding Category Component – Modes of Delivery' goes live during October
Online engagement on the Unified Funding System 'Funding Category Component – Modes of Delivery' goes live during October
Last updated 4 October 2021
Last updated 4 October 2021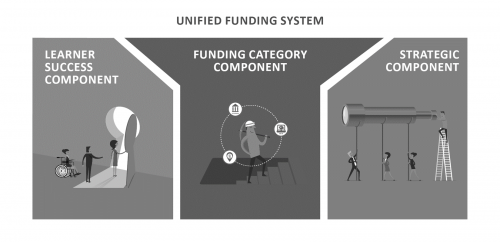 Online engagement is about to start on the modes of delivery for the Funding Category Component of the Unified Funding System (UFS) – Reform of Vocational Education (RoVE).
Over the last 18 months, the Ministry of Education and Tertiary Education Commission have been engaging with sector experts to assist the development of detailed definitions for the Modes of Delivery within the Funding Category Component.
The findings from these sessions informed further shaping of these definitions for this coming round of wider engagement. We also listened to feedback we received about the names of the modes; and have changed them to reflect this (see below).
How programmes are delivered will be a central feature of the UFS, and we would like feedback from you and/or your senior staff who are experts in programme development and delivery. The five modes of delivery currently proposed from 2023 are:
Provider-based (previously Provider led): A learner completes a course without any formal on-the-job learning. The provider undertakes all teaching and learning, and is responsible for all learning support and pastoral care.
Extra-mural: This sits as a subset of the 'Provider-based' definition based on the current Single Data Return (SDR) definition of extramural for 2023, and we will work to refine it for 2024
Work-based Learning (previously Work-integrated): For learners who are already employed in learning in the work place. This is supported by the provider and the employer.
Work-based Learning - Pathway to Work (previously Work-integrated brokered): For learners in Provider-Based delivery that are then supported by providers into relevant employment and to establish their learning
Assessment and Verification (previously Employer-led): for learners being trained in-house by their employer, with limited provider support for the assessment and verification
Your feedback from this engagement will help to develop the operational definitions of the modes in preparation for the UFS implementation from 2023.
At the beginning of October we are emailing stakeholders with a link to our online engagement platform. On the website you will find the information you need to be able to respond to us, including background material, and some of our frequently asked questions.
This engagement is on the operational detail of the Modes of Delivery only, and further engagement is planned in relation other areas of the UFS design.
If you have any questions about UFS or would like to discuss any of this in more detail, please get in touch; ufs@tec.govt.nz