The design of a new single unified funding system for vocational education and training has been approved
The design of a new single unified funding system for vocational education and training has been approved
Last updated 17 December 2021
Last updated 17 December 2021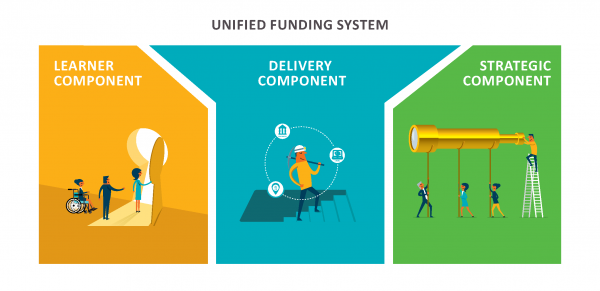 The high-level design of a new single unified funding system for vocational education and training has been confirmed by Cabinet.
The new approach encourages providers to make work-based training available for more learners and employers, and supports addressing national and regional skills priorities to better support employers in their businesses.
With a greater focus on achieving equity for vocational education learners, increased funding will now be available to Tertiary Education Organisations to support learners who have had no previous tertiary study.
To minimise disruption to the sector, the transition to the new system will begin from January 2023.
We will be engaging with the sector in more detail early next year about the changes and how they will be implemented.
Ahead of that, we can confirm the three components of the unified funding system will be:
The delivery component, which funds providers based on the subject of the learning and where that learning is delivered (e.g., in the work place, classroom or online).
The learner component, which significantly increases the funding available to respond to learners' needs and incentivises providers to support the unique needs of all their learners.
The strategic component, which supports providers to respond to regional and national skills priorities, sustain a national network of provision, and support programme development and maintenance.
Together these three components incentivise support for learners to access learning that is right for them and identifies more work-based training opportunities. They increase and improve support and success for all learners and enhanced support for employers, and responds to national and regional skills priorities, and a strong and sustainable regional network of provision.
To get in touch, email UFS@tec.govt.nz