Trades attracting learners at SpeedMeets
Trades attracting learners at SpeedMeets
Last updated 27 September 2019
Last updated 27 September 2019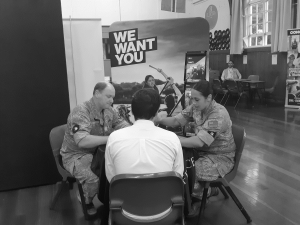 The Got a Trade? Got it Made! SpeedMeet campaign is a way of linking young people interested in trades and training with employers, using a "speed meet" approach. RoVE News went along to a SpeedMeet to see how secondary school learners were finding it.
Jak, 17, went to his local SpeedMeet because his Gateway teacher recommended it as a good opportunity. Jak says he found it really interesting. "I didn't know what I wanted to do after school, but after talking to employers, I reckon trades could be a good fit for me."
Hannah, Melisha and Delta, all 15, said it had opened their eyes to more career options.
Interested in a caring role, Melisha found the IHC stand interesting. "IHC were so cool to talk to, and told me about how you can help disabled people to make sure they have everything they need to be happy and healthy."
Hannah liked the fact that employers weren't "too pushy, just really friendly and open to questions".
Delta "highly recommended" the event and left feeling more confident to pursue an Army career. She said the job information the Army provided was relevant to her.
With over 50,000 people needed in construction trades alone because of national skill shortages, one key goal of the SpeedMeet initiatives is to reposition trades as a lucrative earn while you learn plan-A path in the minds of young people, their parents, teachers and career advisors.
Going to university after secondary school isn't for everyone, and this initiative is showing learners there are interesting careers in trades that are also well paid.
Employers at the SpeedMeets came from a range of industries offering on-the-job training and exciting career opportunities from the automotive, construction, engineering, healthcare, retail and manufacturing sectors.
Got a Trade? Got it Made! is an industry training organisation initiative supported by the Ministry of Education. The SpeedMeet events at secondary schools have been held throughout New Zealand over the past few months.