Agent of change - Toby Beaglehole
Agent of change - Toby Beaglehole
Last updated 1 November 2021
Last updated 1 November 2021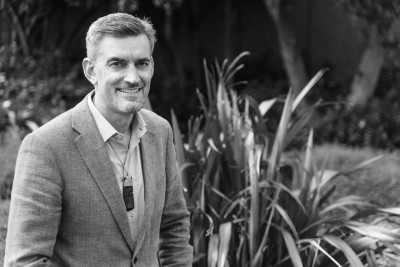 Toby Beaglehole became the Chief Executive of Te Pūkenga Work Based Learning Limited (WBL) on 4 October. In this Q and A interview, he talks about what he hopes to achieve in this role, the challenges for WBL and his aspirations for vocational education.
Q: You have a varied background since the mid-1990s. From a consultant at KPMG to a senior risk manager at E&Y to senior roles at NZ Post and Meridian Energy… You've also worked as Chief Executive at Connexis and BCITO. What attracted you to the Chief Executive role at Te Pūkenga Work Based Learning (WBL)?
A: The role of Chief Executive of Te Pūkenga Work Based Learning is one that allows me to address some unfinished business with RoVE. Since the first RoVE announcement [on 1 April 2019], and working with Fi [Fiona Kingsford, former WBL Acting Chief Executive] and Warwick [Quinn, Te Pūkenga DCE Employer Journey and Experience] in particular, there's always been great opportunities to contribute. Full credit to TEC who keep on listening to all the ideas we come up with, and I wanted to do my bit to support the transition of work-based learning – into Work Based Learning!
It's a fascinating time to be involved in this degree of generational change. While I had no prior vocational education experience when I cut my teeth on Connexis and [subsequently] BCITO, I've now had almost three years of vocational education solely focused on the RoVE transition. It's been my life pretty much since November 2018.
When I came on board at BCITO, I understood that the issue we were dealing with was transition. That was the start of this year – it seems like a decade ago. Of course, within a couple of weeks, it was really clear that the issue wasn't transition, it was growth. We were growing at about ten times our normal rate. And that became my rallying cry – we're here to do three things: RoVE, growth and COVID. Apprentice numbers were ballooning, we couldn't employ people fast enough to keep up. By the end of that, I felt that I'd invested too much time and energy into this to watch it do anything other than succeed.
Q: You've been in your new role just a few weeks. How's it been so far? Has it helped having an intimate knowledge of two of the TITOs that have transitioned?
A: I'm really enjoying it. We've got 700 or so people in WBL and with current COVID levels I'm not getting to meet nearly as many as I'd like to. At least there's an opportunity with the [release of Te Pūkenga's proposed Operating Model] to start some conversations. Having a background with Connexis and BCITO is great – this is the first time in a long time that I've had more than one role in the same sector. Turns out that's quite helpful because I understand who's who within the sector. Having existing networks is valuable. I also do have a perspective on where we need to go, so it's not something I'm making up or forming an opinion on having just arrived. And it's a view that I've been able to test and explore with my networks.
Q: The fully-formed WBL will be big in terms of staff and numbers of learners served. There are some who say it will be too big and inflexible while others believe it will bring depth and scale. How will you ensure a balance is achieved to ensure WBL is truly responsive to learner and employer needs?
A: I agree that we'll be big in terms of learners served, but not so much in terms of people who work for WBL. There's still some water to go under the bridge, but as a subsidiary we'll wind up being quite a nice size and well able to support and engage with Te Pūkenga direction of travel. To give you an example, and not to play favourites here, BCITO has a Canvas app (known as 'myBCITO') that appears to be best of breed in the sense it enables learners to capture their learning, for employers to see the learners' progress, and for us to have a view of the whole thing and to engage more frequently and directly with the learners.
That seems to tick a bunch of boxes. We've also been taking small, indicative steps, for instance, the Connexis CFO has also taken on the CFO role at BCITO. So we're trying to get a bit of that cross-pollination happening, and trying to do it in a way that demonstrates we're not about downsizing or restructuring or cost-saving. We are about creating opportunities for people to take on bigger roles and show some joined-up thinking across sectors.
Q: What other key challenges are ahead at WBL over the next couple of years?
A: It would be very easy to start navel-gazing and just focus on our interaction with the TITOs and the process by which they become new divisions of WBL and how we embrace the operating model. And while that's a necessary part of who we are, it's not enough. We also have to keep on looking outwards. How are things going with the broader Te Pūkenga network? How are our employers feeling? What are our learners experiencing? Are we leveraging off the best that we have to offer? The next two years are going to be action packed, and we'll get some stuff right and some stuff wrong. We can and will learn from both.
Q: What do you hope to achieve at WBL?
A: I'd love to see WBL become a core part of Te Pūkenga – a meaningful contributor to the implementation of the new Operating Model and RoVE, and somewhere that people are proud to say "I was part of that, we did good work, our views were valued". We're a subsidiary, with a role in unifying on-job learning, integrating with on campus and online, and generally being a deliberate contributor to change. Earlier in my career I worked at a merchant bank; we were the parent company and we had subsidiaries. So I've been at the parent table and I have an appreciation for what you do and don't want subsidiaries to be doing. I want WBL to be in the 'eager beaver' category of 'we're there, we're getting on with it' but if someone needs to check the reins a bit, we'll slow up and not try and charge off into the sunset.
Q: If you look ahead 5 years, what would you like to think vocational education in NZ will look like?
A: I'm chronically impatient so I'd love to see RoVE largely implemented. I'd love to see all the constituent parts of vocational education pulling together swiftly so that five years from now we're 80% done. There's a lot going on in people's lives right now, particularly with COVID, and we know ongoing change is stressful, so let's land the future blueprint and deliver it.
That means an efficient network of vocational education, delivered through the method that works best for learner and employer, getting people on a solid career pathway with meaningful qualifications. So in five years, I'd like to think we've got online, on-job, and on-campus working together, we've got learners feeling the love and employers saying, 'This makes sense and I want to be part of it'.
The need for a culture change focus for WBL is a given. We're starting with a series of pre-formed cultures. It's that same principle of how do we take the best or strongest from each and say 'let's pull those together'. Fundamentally, Te Pūkenga is about people and it's about learning and growth. So, as long as we're demonstrating that internally in terms of how we treat people, you'd expect to see that demonstrated externally.
Q: Any final comments?
A: I spent about 20 years in risk [roles] before I moved to NZ Post. My speciality was always finding what could go wrong. I now find myself in the strange position of being quite optimistic! I think the stakes are high but the calibre of people involved [means] we have the right people in the room and there's a real willingness to make this work. There is a positive impetus which I know we can keep building on. It's exciting times.