WDC/Transitional ITO COVID-19 Response Projects Fund
WDC/Transitional ITO COVID-19 Response Projects Fund
Last updated 7 July 2020
Last updated 7 July 2020
As part of Budget 2020, Education Minister Chris Hipkins announced the WDC/Transitional ITO COVID-19 Response Projects Fund.
As part of Budget 2020, Education Minister Chris Hipkins announced the WDC/Transitional ITO COVID-19 Response Projects Fund.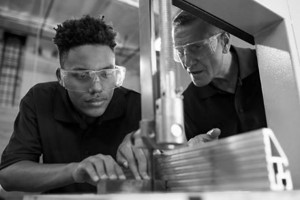 This fund is specifically for Transitional Industry Training Organisations (Transitional ITOs) and Workforce Development Councils (WDCs) to lead projects that will support industry recovery from the impacts of COVID-19.
Transitional ITOs and WDCs can apply for funding to support projects, ideally in collaboration with industry, to achieve one or more of the following aims:
Quality recommendations: provide outputs that give industry, businesses, learners and providers confidence in the training and training pathways and that result in positive outcomes and best support the skill needs of industry.
Demonstrate buy-in: involve industries, industry groups and providers to develop a common understanding of how industry sectors may recover from COVID-19 and how this recovery can be supported. This includes both regional and industry-wide training responses to support recovery from COVID-19.
Alternative learning options: work with providers on how to implement alternative arrangements for apprentices who have lost jobs, for example, provision of interim learning solutions.
Pathways: work with providers to design learner pathways, supported by industry, that support the likely recovery paths of industries.
Investment priorities: provide clear priorities to inform the Tertiary Education Commission's (TEC) investments in education and training, including priorities to fund products with industry endorsement.
Inform advice: provide information to WDCs, at the appropriate time, to support their advice to the TEC.
RoVE outcomes: contribute to the transition of Transitional ITO functions to WDCs and providers, including potential transfer of the projects to WDCs where appropriate.
"We know that Transitional ITOs and WDCs, when established, are the eyes and ears of industry and can contribute important intelligence about the impacts of COVID-19 on industry. We also know that they can provide innovative recommendations and solutions that will lead to positive outcomes for learners, businesses, industry and providers," says Jane Duncan, Acting Manager Operational Strategy, Policy and Insights.
"We invite interested Transitional ITOs to start putting forward their ideas, as part of a three stage process. A panel will be responsible for evaluating the applications as we receive them and funding will be assigned based on key eligibility criteria being met."
Read more about the fund, including information on how to apply, on the TEC website.