Mixed reality added to skills training mix
Mixed reality added to skills training mix
Last updated 5 July 2022
Last updated 5 July 2022
Just as vocational training and education are evolving through RoVE, so are the technologies to upskill our workforce.
Just as vocational training and education are evolving through RoVE, so are the technologies to upskill our workforce.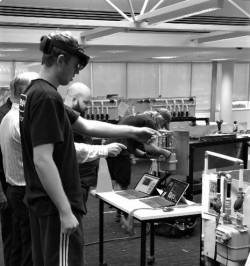 Industry Connection for Excellence (ICE), a recently registered private training establishment (PTE) servicing the plumbing, gasfitting, and drainlaying sector, is getting ready to use Microsoft's mixed reality technology HoloLens in its training delivery.
ICE demonstrated the new technology at recent Roofing Industry Association and Master Plumbers Conferences in Christchurch and Rotorua, giving visitors the opportunity to experience the enhanced learning experience first-hand. ICE CEO Garry Ivill says ICE will be ready to introduce HoloLens in its training delivery for plumbing courses in the next three to four weeks.
"HoloLens is not going to replace a good tutor, but it will support and enhance the learning experience and, we hope, create increased student engagement," says Mr Ivill. The mixed reality approach, involving the use of headset which presents virtual imagery to the wearer whilst also showing the physical environment, has been trialled successfully with students of all ages. "Understandably, younger students often find it easier to navigate from the offset, however we've found anyone can use it really well."
Considerable work has gone into the development of a programme of learning and assessment that uses mixed reality as part the training delivery. "It is important we are using HoloLens in a way that achieves the right outcome for the learner. For example, in our learning module for an Infinity hot water system, we have ensured that we "pause" as students go, allowing them to reference back to access the manufacturer's instructions or refer to the manual within the mixed reality space HoloLens provides."
In another module, being developed to support the gas fitting qualification, mixed reality is used to supplement technical, equipment-based, learning. The aim is to provide learners with a consistent, coordinated learning experience.
ICE is hoping that the innovation will excite "tradies" considering becoming educators to step into a dynamic teaching environment. With the need for skilled tradespeople on the rise, those professionals with the personality and desire to teach is in high demand. Also, ICE sees the potential to use mixed reality in other areas where there is high occupational risk.