iEB mahi hitting the mark
iEB mahi hitting the mark
Last updated 6 August 2020
Last updated 6 August 2020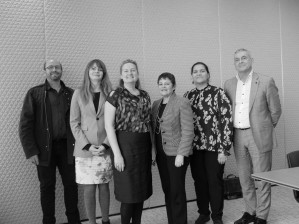 The Workforce Development Council interim Establishment Boards (iEBs), responsible for the formation of all six WDCs as legal entities, are well underway with their mahi and making great progress.
The iEBS were appointed in June by the Tertiary Education Commission's (TEC's) Chief Executive following an Expression of Interest process. Each iEB's primary role is to establish the WDC as a legal entity. Where possible, the iEBs will provide advice and guidance to inform tertiary education system responses to COVID-19 impacts.
The iEBs are currently busy planning comprehensive engagement opportunities over the coming months to ensure that stakeholders can provide all-important feedback on the legal instruments that will stand up the WDCs – the Orders in Council (OIC).
The six OICs will outline the name of the WDC, state the industry it covers, set out the governance arrangements and any additional functions (if any). These OICs will then be confirmed through the Executive Council and sent to the Governor-General for signature.
Initially, it was intended that the WDCs would be formed by October 2020 as part of the WDC accelerated timeline announced by Education Minister Chris Hipkins through Budget 2020.
However, the iEBs' strong commitment to carrying out effective, thorough and inclusive stakeholder engagement in line with the RoVE programme's approach – coupled with feedback from other key stakeholders – has resulted in a new target deadline of year-end.
WDC Establishment Lead Kari Scrimshaw says the extension paves the way for the iEBs to ensure due diligence in all aspects of their work without compromising the intent of the accelerated timeline. This is to secure industry voice at the heart of the new vocational education system as quickly as possible.
"We are pleased that Education Minister Chris Hipkins decided a short extension of the deadline will support strong iEB engagement outcomes. This is critical to the success of the formal OIC consultation in October and the future WDCs.
"We are encouraged by the progress of all six iEBs and their resolve to be integrated and collegial with each other. All the iEBs are working hard to ensure their work-plans are advanced in a timely manner while ensuring that full consideration is given to how they can most effectively and meaningfully bring their industry on the journey."
The iEBs will shortly have their own web pages on the TEC website where stakeholders can check in for regular progress updates. More information will also be published through the RoVE Newsletter and across TEC's social media so keep an eye out.
As subscribers to RoVE news and updates, you can expect to hear from the iEBs as they reach out to stakeholders through their engagement activities. We also invite you to take part in a short survey which asks you to tell us which iEB(s) you want to hear from most. This survey will help us, and the iEBs, to target communications and engagement efforts.